What You Missed at the #Grammys
If you seriously missed the Grammys this past Sunday, go ahead and take a minute to dust yourself off, because you've clearly just crawled out of a rock. I'll wait right here, go ahead and take all the time you need. Oh, you're back? Good, now let's get down to talking about what went down on music's biggest night.
The show started off with America's favorite power couple--and no, I'm not talking about Barack and Michelle--Beyonce and Jay-Z. Queen B initially took the stage alone in a sexy black bodice singing "Drunk in Love", one of the more memorable songs from the album she sneak-attacked on us late in 2013. Though this is a little off-topic, I'm just hypothesizing that the 2015 Grammys will be the year of the 3 Pop Queens: Beyonce's self-titled album, Lady Gaga's Applause, and Katy Perry's PRISM were all released just past the cut-off point to qualify this year, but next year they'll duke it out against one another for top honors. Anyway, as a viewer I was immediately buzzing for the next hours to come; I was just about as giddy as Taylor Swift dancing in the front row.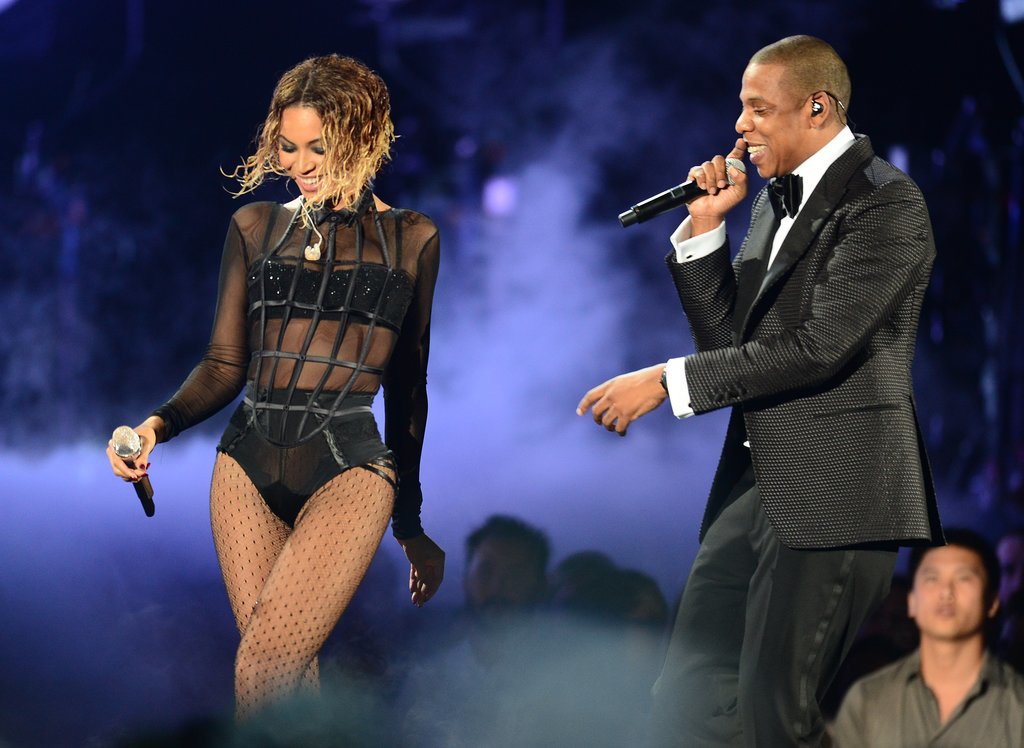 Speaking of Taylor Swift, her performance was another highlight of the award show. Maybe I'm biased (okay, I'm definitely biased) but my girl killed it. She's lately been relying on her big-hit pop songs "We Are Never Ever Getting Back Together", "22", and "I Knew You Were Trouble" accompanied with dancers and intricate costumes, so this stripped down delivery was much appreciated. Sitting just at a piano adorned with her lucky number 13, she showed off her impeccable vocals and wise-beyond-her-years songwriting prowess with the soulful confessional "All Too Well". The only theatrics she used were some striking eye contact and hair flipping. Regardless, did the Taylor haters jump all over her for performing a song about a man that broke her heart? Of course. Is she way richer and hotter than all of those haters combined? Duh. But still in all, my girl Tay was sent home with 0 Grammys, which in my opinion is ridiculous. Her album Red is a masterful weaving together of country and pop genres and it stings a little to know that that work will go unrecognized, but it doesn't change the songs themselves; that's what I'm telling myself anyway. But seriously if you're reading this and you aren't familiar with any of the songs on this album that weren't made into singles, look them up.
It seemed as though not all of the performances this evening followed in that same understated trend, but that's what makes award shows fun. Not every artist can have 20 dancers and robotic horses (looking at you, Katy Perry), but as an audience we crave some of that showiness. The Grammys struck a good balance with the types of performances, I will say. Personal favorites of mine were Pink's amazing trapeze act (seriously I can barely do my ab routine at the gym, meanwhile she's in her 30s and singing beautifully while suspended upside-down), Lorde's bizarre clawing and raspy mix of spoken-word and big notes, and Kendrick Lamar's collaboration with Imagine Dragons. Oh! And I can't forget about my new girl-crush, Kacey Musgraves. I've had one of her songs on my iPhone for a few months ("Merry Go 'Round", for which she accepted the Grammy for Best Country Song) , but once she took the stage in her light-up cowboy boots and preached "kiss lots of boys...or kiss lots of girls if that's something you're into", I was beyond enthralled. She snagged the coveted Grammy for "Country Album of the Year", and upon listening to Same Trailer Different Park I couldn't support the decision more. Her self-penned lyrics hold true the musical values that make country so strong and catchy--the banjos, the honest melodies--but she does so in a new, progressive way. Her lyrics help push the somewhat old-fashioned genre in a positive direction, because hello it's 2014, we need songs about having premarital sex and loving whomever makes you happy.
Now you know I couldn't mention love and equal rights without gushing about Macklemore and Ryan Lewis's beautiful, tear-jerking performance. They, with the help of Mary Lambert, performed "Same Love", an apt equal rights anthem. And if that wasn't great enough, Queen Latifah proceeded to come on stage and marry 34 couples--both same and opposite sex--lined up in the aisles as guests looked on and shed tears. I truly believe as I watched the prompt ceremony in my dorm room, I was watching history being made. Oh and not that it's a big deal or anything, but freaking
Madonna
decided she would join the party. I can honestly say Macklemore and Ryan Lewis deserved to win four times over, especially the Grammy for Best New Artist, because their impact on the music industry is making
waves. Oh my God, and when they went to accept their award, Macklemore's
fiancé immediately bursted into proud, happy tears. Entirely too presh.
So I guess that's all you really missed at the Grammys this year. The biggest award of the night, Album of the Year, went to Daft Punk, which is totally understandable because with lyrics like "We're up all night to get some...We're up all night to get lucky" they totally stack up against the other nominees. Are you sensing my sarcasm here? Honestly, I thought Taylor had it in the bag, but even more than that, I thought the other nominees did enough good work this year that I could humbly accept her loss on their behalf. Daft Punk though? As they say in their robot language: Does not compute.
What did you think of the awards this year? Let me know in the comments!