Blogmas Day 14: My Ten Most Fanscinating
Happy Sunday, everybody. Yet again Blogmas is coming at you just before the clock strikes midnight, so like Cinderella at the ball I'm rushing around to make sure I leave the right impression before time runs out. I had a genuinely good, lazy Sunday in which I got to wake up at nearly eleven o'clock in my own bed. I slept more soundly than I have in weeks, which is exactly what I needed to get back on my feet. Amidst decorating the house for Christmas, going to the grocery store, and eating dinner with my parents, I had the type of homebody day that I dearly miss when I'm away at school.
Among those staple suburban activities, tonight my mom and I watched Barbara Walters's "10 Most Fascinating People of 2014" annual special, and honestly it was lackluster. Of course we tuned in for Taylor Swift's segment, which was too short and too surface if you ask me. Barbara must be losing her touch, because it seemed as though this year she picked her most fascinating people by closing her eyes and spinning around in circles with her pointer finger outstretched. Her pick for the coveted Most Fascinating position went to George Clooney's wife, which in addition to being an odd choice is almost disrespectful toward all the truly fascinating people that would've better deserved the title. For all of these reasons, I've taken it upon myself to rewrite the list and present to you Lauren Sauer's 10 Most Fascinating People of 2014.
In no particular order (because you can't make me choose)
1) Jimmy Fallon Courtesy of The Huffington Post
Jimmy took over the iconic
Tonight Show
after Jay Leno stepped down (for good--throwback to when he teased Conan O'Brien with the hosting gig for a few months) and has taken network TV by storm. Successfully hosting
Late Night
in years prior, Jimmy brought his energy to
The Tonight Show
with his trademark sense of humor and charm. In addition to boosting ratings, he boosted New York morale by bringing the show back home to the greatest city in the world. He's changed the game of talk show television by being just as interesting as the huge stars he invites on, which is no easy task. 2014 was a big year for Jimmy, and it doesn't go unnoticed in my book.
2) John Green
Courtesy of The Wire

Sticking with the theme of lovable, father-figure semi-inappropriate celebrity crushes, John Green had a big 2014. One of my favorite authors since my angsty high school days, John has finally entered into the pop culture arena. His books
Looking for Alaska, An Abundance of Katherines, Paper Towns
(which has an accompanying film currently in production), and
Will Grayson, Will Grayson
all achieved notable success as bestselling young adult fiction novels. Nothing compares to his most famous work though:
The Fault in Our Stars.
Though it was released in January 2012, (which I remember vividly because that trip to Barnes and Noble was one of the first places I drove myself with my newly-obtained license) TFioS, as it's commonly referred to, robbed the tears of people all over the world with a new vivacity in 2014. With the movie release this summer, the average person aged 12-50 is now hard-pressed to find someone they know who
isn't
utterly obsessed. The heart-wrenching story of two teen cancer patients finding love may seem contrived from its summary, but it's a worthwhile read that has turned into a global phenomenon. So much so that I'm starting to wonder if John Green hasn't published anything since then for fear of following up such an iconic novel.
3) Laverne Cox
Courtesy of National Review
When Netflix's original series
Orange is the New Black
became the show to watch in 2014, audiences became fascinated by Sophia, the aloof beautician and transgender woman. Before now, transgender people--especially transgender People of Color--were not commonplace in television, so to experience Sophia's fictional narrative was a learning experience for many. Beyond that though, the actress behind the incarcerated former fireman is much more fascinating: Laverne Cox, a transgender woman, speaks openly about her experiences and identity to educate America. 2014 was truly the year in which we experienced, as
Time
says, "The Transgender Tipping Point," in which our Western culture has been forced to familiarize itself with this legitimate identity and understand it from a new perspective. Before now, it was commonplace to throw around the word "tranny" in pop culture for a cheap laugh; thankfully America has now grown to understand the severity of the t-word as a slur. That's just a small example, though: the transgender community is complex and is demanding to speak for themselves, and with strong women like Laverne Cox at the forefront of the conversation, they're finally saving their turn to talk.
4) Meghan Trainor
Courtesy of Vevo
Meghan Trainor has all the makings of a pop sensation: blond hair, bubbly personality, catchy hit song...one problem though: "she ain't no size 2." That's okay though, because 2014 proved to be "All About That Bass." Meghan's self-written song about body positivity took the world by storm this year and fueled a revolution. The 20-year-old sings about being "perfect from the bottom to the top," encouraging young women to love themselves regardless of how their waistlines compares to that of Victoria's Secret Angels. The catchy song sparked a bigger conversation of self-love that is beneficial for people--especially girls--all over the world. While the song has received some backlash for its "skinny-shaming" subliminal messaging, the intent is pure and the song is a hit.
5) Ben Affleck
Courtesy of Salon.com
Trust me, I'm as surprised to be writing this as you are to be reading it, but it all adds up: Ben Affleck had a big 2014. In addition to his starring role in
Gone Girl
, in which he reminded us that he can act his butt off (literally...there's a split-second nude scene in the movie) he also made a splash in the political end of the pool this year. Ben publicly debated many times on television about the legitimate issue of Islamophobia, (the hatred or mistrust cast upon all Islamic people as a result of largely unrelated terrorist activity) bringing the issue to the attention of many. When celebrities use their stature--especially when they're being given the spotlight for a film, album, etc.--to promote issues of importance, it gets a gold star in my book.
6) Lupita Nyong'o
Courtesy of US Magazine
An absolute vision on every red carpet this year, Lupita Nyong'o wowed the world with her poise, beauty, and intellect continuously. Winning the "Best Supporting Actress" Oscar for her performance in
12 Years a Slave
, Lupita brought to life the brutal truth of the American South in the years before the Civil War. In addition to her acting, Lupita has spoken on behalf on young black women everywhere in order to redefine classic beauty and broaden the horizons of representation in film. Her grace makes her an amazing facet in today's Hollywood and hopefully gives more room for women like her in the years to come.
7) Kimye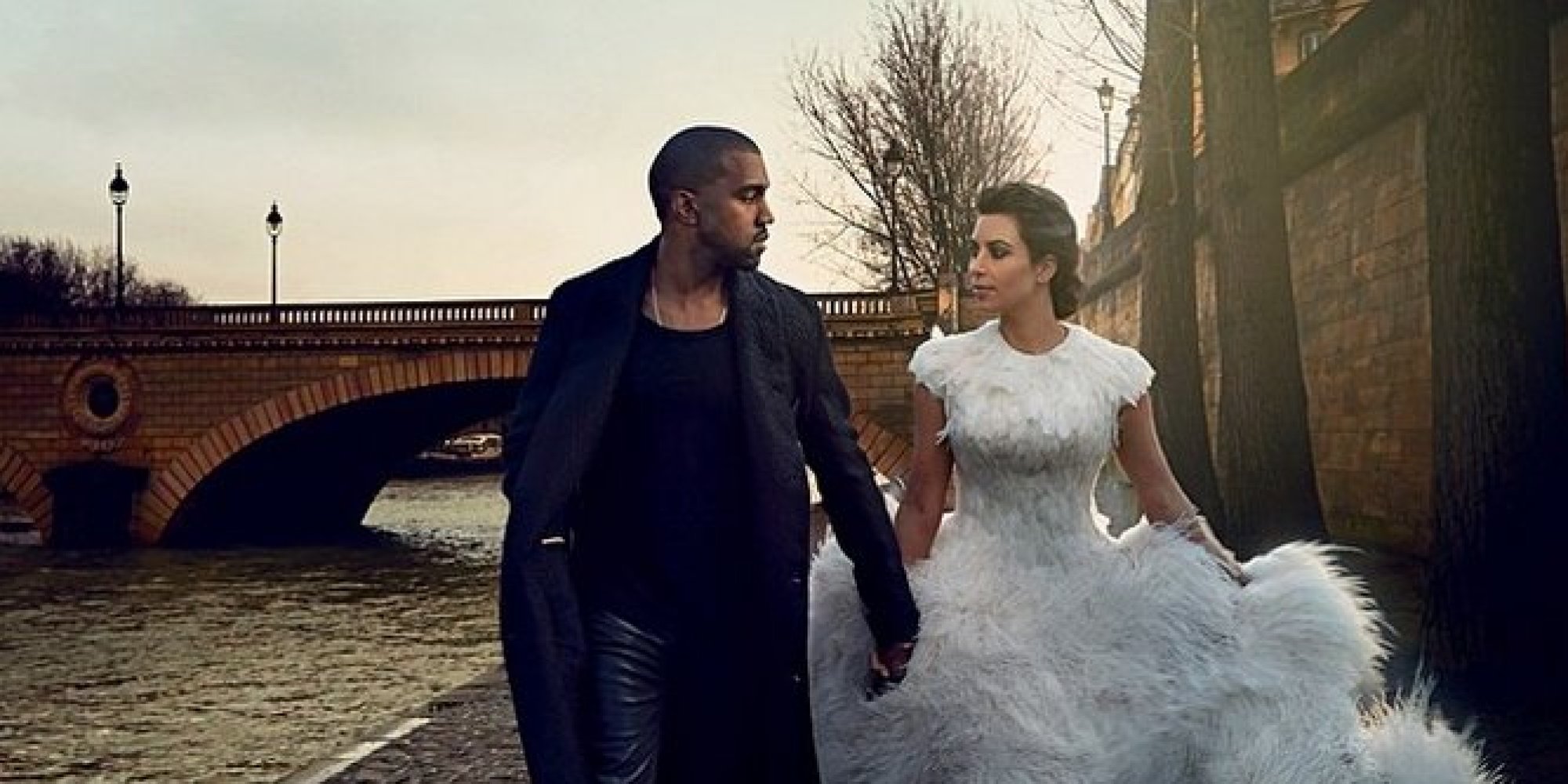 Courtesy of The Huffington Post
You don't have to love them, but you have to admit they're fascinating. Kim Kardashian and Kanye West got married in 2014, making official what many call "The Most Annoying Couple in the World." She's famous for creating a empire out of a sex tape. He's famous for thinking himself to be God. A match made in heaven. Their relationship is of much scrutiny and open for the world to see, and I won't lie and say I've turned away from my window into their public lives. Plus the cherry on top of the cake: they named their daughter North West. Only them.
8) Robin Williams
Courtesy of Inside Movies
I'm unsure if including the recently-deceased in this list is in poor taste or in good form, but something is urging me to include Robin Williams. Robin passed away due to suicide this August, leaving an everlasting scar on Hollywood and the hearts of many. His death came as a complete shock to the entire world, who saw him only as the Genie from Disney's
Aladdin
and the dad-in-disguise in
Mrs. Doubtfire.
And while he was both of those things, he was also deeply depressed. His death sparked a conversation and awareness about mental illness and the appropriate ways to seek treatment. And while it saddens me greatly to see the death of a comedy legend, the dialogue that followed is ultimately productive and I'm sure has saved at least one other person's life in the process. At least, then, his death was not in vain, but he is sorely missed nonetheless.
9) Taylor Swift
Courtesy of E! Online
I tried, guys. I tried
really hard.
I don't want to be that girl that keeps bringing Taylor Swift into the equation, but 2014 was her best year yet. You can ask anybody (Hell, even ask Katy Perry) and they'll tell you the same thing. Taylor's 5th studio album
1989
had the best first week sales since Eminem's album in 2002, she's the only female artist to have 3 albums debut at number one, and she's the
only artist this year
to have her album go platinum. Remove my crazy fangirl bias from the equation and just look at those stats alone: Taylor Swift is a remarkable force to reckoned with. And of course while I don't know her (but man do I wish I did) she seems to remain levelheaded and genuine throughout her immense level of fame. That's truly fascinating to me, and makes her a shoe-in for this list. I know, guys...I really tried to resist the temptation, but I just couldn't Shake It Off. (I'm ridiculous and that joke was too)
10) The People (and Supporters) of Ferguson, Missouri
Courtesy of QZ.com
I don't like to use my blog as a means to spew off my elementary-level political beliefs, so I won't get into my own perspective, but the People of Ferguson and their supporters couldn't not make this list. In the wake of the murder of Michael Brown, (who, at the time, was 18) the grand jury decided not to indict police officer Darren Wilson, proving there to be a severe racial bias in our justice system. Oops, there I go, letting some of those political beliefs slip out. In the wake of the decision, Wilson has since resigned (with enough money from his supporters to retire at the young age of 28), and the conversation about modern-day racism is on everyone's mind. The People of Ferguson, especially the family of Michael Brown, have remained strong and sentient in these past few weeks, forcing Americans not to push this issue aside. Because the fact of the matter is not all people have the privilege to just "push this issue aside."
And on that note, there's my list of the Ten Most Fascinating People of 2014. While Barbara Walters is entitled to her opinions, I think my picks trump hers, but I'd like to know what you think. If you think I forgot to include someone important, let me know in the comments below.
"
I think what makes people fascinating is conflict, it's drama, it's the human condition. Nobody wants to watch perfection." -Nicolas Cage
x,
Lauren