BEDA Day 23: April Favorites
Hello, friends! I hope you're having a good day; I'm a little bit overwhelmed with schoolwork, so forgive me for posting a kind of fluffy, short blog post today. But basically, I'm doing a very beauty guru-eqsue blog post today: towards the end of every month, beauty gurus post videos talking about their favorite products they've been using recently. They're often good ways to find new things to try out, but because not many people read this, I can't imagine any of you will be hugely influenced by what I have to say. Whatever, man, indulge me.
Beauty Products
1) Benefit's "They're Real" mascara
I've had this mascara in my desk drawer for a while, but I finally broke it out this month once I realized I'd been using my old mascara for longer than can be deemed sanitary. I've used a sample size of this stuff before, which is why I was inclined to buy a full-sized tube from Sephora last time I did some damage on their website. And seriously: this mascara is the best. It's a little pricey, (around the $20 mark, which I know sounds crazy) but it makes your eyelashes look amazing. As the name suggests, it makes your lashes look like you're wearing falsies, but in the best way possible. Your lashes look full, long, and soft. No clumps or gross spider-lashes. And while maybe it won't be the mascara I consistently repurchase, (because I'm a girl on a budget, y'all) it's definitely a "treat yo'self" mascara that I highly recommend.
2) Revlon's Lip Butter in No. 63 "Wild Watermelon"
This lip butter is the perfect in-between: it has the color payoff of a lipstick with the smoothness of a lip balm. I've had this particular product for a while now, but I recently dug it out from my overflowing drawer of lip products. On a serious sidenote I have a huge lip product problem: I have way too many. I think I'll graduate college and find a good post-grad job before I actually use up everything in my collection. That being said though, finding a color that I use over and over again is then a true testament to how great the product is: even though I have seemingly endless stash of lipsticks to go to, I keep going back to this one. That's because it's the perfect color for springtime: not too bright, but a little something extra. The median between a red and a pink. Also easy to throw in your bag and reapply throughout the day without having to constantly touch it up and fix in the mirror.
3) Maybelline's "Age Rewind Dark Circle Eraser" Brightener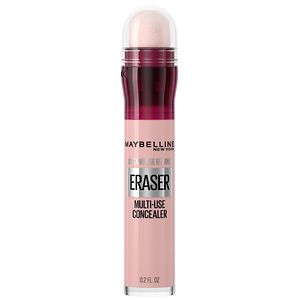 If you should know one thing about me, it's that I don't have a normal sleep schedule. One night I'm in bed by 9:00, the next I'm up until 4:00 AM. That said, I have gross purple under-eye bags. So I need a bomb-ass concealer that brightens up my face without being too intense or too expensive. That's where this brightener comes in: it's less than $10 and works like a charm. I use it under my eyes, but also on the bridge of my nose, my chin, and my forehead. Anywhere the sun would naturally hit. I dunno guys, I heard that's what Kim Kardashian's makeup artist does. I'm not sure if I'm doing it right or if it's a cute look, but any product that makes me feel like a Kardashian is great in my book. Bible.
Books
1) Dress Your Family in Corduroy and Denim by David Sedaris
I still have a few pages left in this collection of essays, but I love it so far. I'm getting more and more into David Sedaris this year, and I can't recommend him enough to everyone I know. He writes nonfiction essays that are laugh-out-loud funny and just the right amount of inappropriate. This collection is particular is almost exclusively about his family; as a writer, I'm really interested in how others are able to write about loved ones, and Sedaris manages to do so incredibly well. After reading his work, I'm always inspired to sit down at my laptop and punch out a few stories. Even for non-writers, though, his work is great. I recommend any of his books, but this one in particular is perfect for people who've never read any of his stuff, as it's a really good representation of his style.
TV Shows
1) Mad Men
I'm only just now finishing up season one, because I'm incredibly late to the game, but I'm so into this show. I've always been intrigued, because my parents have been OG fans since the pilot aired, but I was always too young to appreciate it. Now I'm all on board and eager to keep watching. I should probably take a break from binge-watching in favor of finals, but knowing me that won't be the case. I just need to know what Don Draper is gonna do next.
2) Unbreakable Kimmy Schmidt
This show is great. You know this. I know this. Tina Fey is a goddess among men; everything she touches turns to comedy gold. If you haven't watched this show yet, there's no excuse for you. Drop what you're doing now. It's only 13 episodes.
Music
1) Fifth Harmony's Reflection
Fifth Harmony is the feminist girl band we've been needing in the 21st century. Their music is fun, cute, and empowering: what more could you ask for? And while, no, their songs aren't objectively good from a songwriting craft standpoint, they're indulgent and a little bit sassy. Not all music has to be deeply meaningful and make you feel something. Some music, like this album, is just good "roll around town with the windows down and your music cranking" music. Simple as that; don't take everything so seriously. So I guess I'm a Harmonizer now...whatever, let me live my life.
2) Walk the Moon's Talking is Hard
I originally found out about Walk the Moon as I'm sure everyone else did: their hit summer song, "Shut Up and Dance." Upon falling in love with that 80s inspired dance track, I looked up the rest of their album on Spotify. And guess what, guys? It's great from beginning to end. Every single song is upbeat, which is perfect for spring and summer (I know I touched on this the other day, but it wouldn't be right to not mention them here, too). My favorites--other than "Shut Up and Dance"--are "Sidekick", "Work This Body", and "Up 2 U." If you're into indie-pop music like fun., The 1975, and Bastille, you're sure to be a fan of Walk the Moon. Download and memorize all the words before they inevitably become the next big thing.
Alright y'all, I think that's gonna do it for today! I hope you enjoyed reading about what I've been loving this month; if you have any favorite things of April, feel free to leave me a comment!
x,
Lauren
PS: Can you believe there's only a week left of BEDA?!